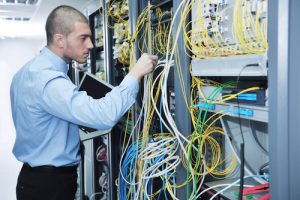 An IT service crisis never happens at 11:00 AM on a regular Tuesday morning, it happens at 4:30 on Friday, or an hour before your company has a major deadline to deliverable to meet. Choosing an IT services provider who is reliable and dependable, capable of putting out the immediate fire, and forward thinking enough to develop and implement strategies, solutions, and procedures that anticipate and prevent major IT meltdowns goes a long way towards establishing confidence in your network and peace of mind for your employees. The following article outlines three things a reliable IT services provider should deliver consistently
Manage Your Security
Your technology infrastructure is only as strong as your weakest link, so your service provider should have a number of different security strategies in order to minimize your risk of comprised data and information. With more employees bringing their work home with them than ever before, your network is at risk from a number of outside threats, including malware and viruses.  Regardless of your internal policy on technology and social media, someone's laptop will eventually get infected. A good IT services provider will be able to assess, manage, and then mitigate the risk before your entire network is comprised. They should be ready, willing, and able to  handle a security breach whenever and wherever it occurs. Especially  if it's 4:30 PM on a Friday.
Pay Attention to The Fine Print
As your business expands and your staff becomes more tech savvy, you may start to think about decentralizing your tech support and letting your staff manage their own operations. Without a centralized operations center, your technology systems may not be firing on all cylinders, and your operational efficiency, especially in regards to network speed, may suffer. A reliable IT service provider will make sure standard upgrades, updates, and maintenance will happen on your schedule, and not before a major deadline. Your IT services provider should be the conductor of your network train, not the caboose.
Plan For Worst Case Scenarios
Disaster recovery is a work in progress and your plan will never be perfect without rigorous and reliable testing and evaluation. Leveraging your IT service provider's experience will help you "fail faster" in order to identify the holes and gaps in your recovery plan, and their expertise will allow you to adapt and evolve accordingly.
A simple internet search will bring up hundreds, if not thousands of IT horror stories. From the CEO's son infecting the network with a nasty virus from playing Minecraft on his laptop to the Florida company who's generator ran out of fuel during a hurricane, wiping out the entire network, bad IT things happen to well meaning businesses. A reliable IT service provider will not only help you identify threats before they happen, they should swoop in and save the day if- and when- the unexpected happens, letting you focus on expanding and growing your business, not putting out fires.