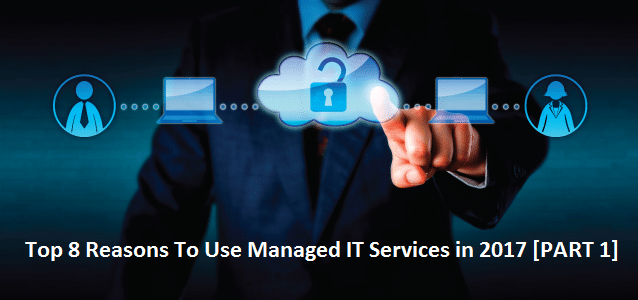 Outsourcing basic IT functions such as payroll, website hosting and email have long become the norm for businesses. But business owners, like you, are realizing that the world of managed IT service is so much more than that.
To help you see all that managed IT services have to offer, here are our first 4 reasons why you should starting using them in 2017:
Cost Savings
One of the biggest business values of managed IT services is cost savings. Costs for IT can include hardware, maintenance, software and network infrastructure, and labour. When using a managed services business model, you will be able to easily predict what your IT costs will be on a month-to-month basis. The return on investment (ROI) of our IT services will also be a savings that will be clear once you can guarantee that your costs aren't fluctuating monthly.
Whether you are considering reducing the size of your IT department for cost reduction purposes or you have no dedicated team, our IT solutions will help you to maximize employee productivity and satisfaction, and will help you reach your business goals in the process.
Better Uptime
The need for constant uptime and business continuity is more important than ever. Business owners need to be prepared for emergencies such as data loss, security breaches or other disasters that have the potential to damage the company's accounts and overall credibility in its field. By outsourcing your IT services, we ensure that your IT systems are running smoothly and efficiently, so you can stay focused on your business operations and avoid long-term downtime. You will also be able to maximize your uptime and keep your internal staff focusing on projects and business activities that will help the company prosper.
Proactive Approach to It Problems
This may be one of the best benefits of managed IT services —you don't have to worry about your daily IT operations. By choosing to work with us, you don't have to second guess how reliable your network connection is or have to fret about the state of your IT environment on your morning commute.
We can detect potential vulnerabilities and disturbances in security, and can take action before they develop into more critical threats to the system. Since we offer 24/7 IT support, we can often troubleshoot and fix glitches or bugs before you even knew they existed.
Tap Into Cloud Solutions
By using a cloud hosting service, you will be able to remotely access your files all while a large portion of the memory burden has been taken off your in-house computers and other devices. It is accessible anywhere with an internet connection and no longer needs to be stored locally. Some of the applications that your company can keep in your cloud include: cloud backups, remote file sharing and collaboration, email, CRM and SharePoint.
Be sure to check back next week for part 2 of our 8 reasons to use managed IT services. If we already have you convinced, contact us for a free quote today.