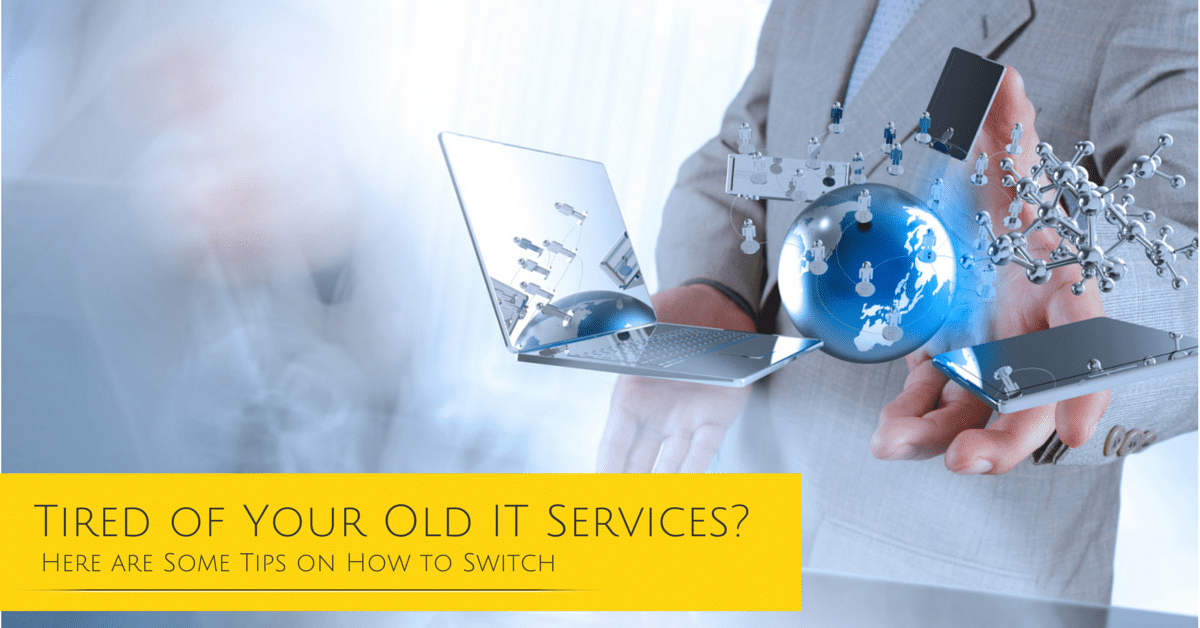 Are you fed up with your current IT provider? Feel like there's something better out there? You're probably right. To remain competitive and digitally secure, you will have to occasionally upgrade your technology infrastructure, and this includes your IT services.
Switching IT services is not as simple as picking a new service out of a hat. Below, we examine what you need to do in order to truly upgrade when you change IT companies.
First Things First: Prepare to Make the Switch
In order to make this transition as smooth as possible, you must take the following steps:
Gain access to all domains and servers that your network is connected to
Retrieve copies of all of your data
Get a list of all routine maintenance performed
Get a list of all potential problems with your computers and network
This will make it much easier for you to allow your new IT service provider to do their job.
How to Choose Your Next IT Service for Small Business
Now that you have laid the groundwork for switching IT service companies, it is time to choose a new one. Here are some important tips.
Always Hire a Professional Company
Some random person that claims to know computers should not be managing your technology resources. Make sure that you are only hiring professional IT services that include entire teams of certified technology experts.
Make Sure That They Understand Technology and Business
If someone knows how every coding language and computer part in the world works, this does not guarantee that they will know how to help you the right way. You need an IT service company that understands how technology can help you reach your business goals.
Make the Cost a Secondary Factor
We are not saying that you should completely ignore the cost of your next IT service provider. After all, your company's finances are finite, and you cannot spend all of it on IT services. However, making the price tag a primary factor in your search will end up costing your company money. This is because going with cheap IT services for a small business is just that: cheap.
Low quality IT services will result in a slower network, poorer maintenance, more damaged equipment and less secure digital protection. These problems will waste your time, put your data at risk and cost you money.
Your small business is worth the upgrade to a better IT service. The technology that you use is critical for the success of your business. Make sure that it is taken care of by a professional IT service provider that specializes in small businesses when you make the switch.
We Can Help You Upgrade Your IT Services
Are you considering upgrading your current IT services? Are you aware of the advantages to outsourcing your IT services? If so, we can help. At Dynamix Solutions, over the last thirteen years, we have assisted countless companies large and small migrate from their old systems to better managed IT services.
Through our expert managed IT services, you can confidently let us handle all of your IT needs, such as computer and network support, desktop support, and remote IT support. Contact us today for a free quote, and smoothly transition into a new era of professional efficient IT support.