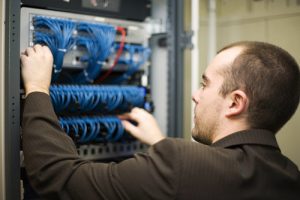 Information Technology (IT) advances in the commercial field are rapid and merciless. One minute, you're at the head of the pack and the next minute, you're forced to invest more money in small business IT support just to keep up. There are the logistics of training employees in cutting-edge technologies, along with the expense of getting new equipment. Just when you think you're running on all six cylinders, the IT landscape changes and you're back to feeling like you will never catch up. That's why it's important to learn how to properly outsource small business IT support, to reduce the cost of implementation while keeping up with the latest innovations in the commercial IT sector.
Evaluate In-House Versus Client Support Needs
Your clients are demanding, and regardless of your intent, they will make judgments on your business operations if they aren't as modern as other businesses. Thus, you have to keep your clients happy, so that they keep coming back. Outsourcing IT support provides a multitude of benefits from 24×7 support to professional, leading-edge, solutions. Best of all, it doesn't have to clog up your in-house staff's functions, if that part of your business is outsourced.
Consider Your In-House Level of Expertise
If you want to do an in-house project and your staff just doesn't have the needed experience with the new technology, the easiest way to get it fast is to outsource part of that project to the experts in that technology. Your in-house staff can get needed experience working with the outsourced team, while you don't have to wait for them to play catch up with your business model.
Estimate the Lifespan of Your Business IT Needs
How crucial is it that you have a JAVA expert on your team full-time when all you want is to put up a website once? The total development can be outsourced and then you don't have to lay off people or find new work for them to do later. On the other hand, you may want to have a full-time SQL Server Administrator in-house, if all your in-house systems rely on this database. If the need is short-term for IT experts, outsource the small business IT support to people who can hit the ground running and get it done in record time.