REMOTE IT SUPPORT SERVICES
At Dynamix Solutions, we provide experienced remote IT support services to help relieve the stress that tech issues cause Canadian business owners. From hardware CIO service to network administration, cloud services, back-ups and disaster recovery, Dynamix Solutions brings it all.
Give your staff better level of support, without having to pay for the superfluous expenses that arise when you add a full-time IT employee. In fact, you're offering more support, at a far better price.
Whether you're a startup or Fortune 500 enterprise, you trim your IT budget while actually boosting employee productivity.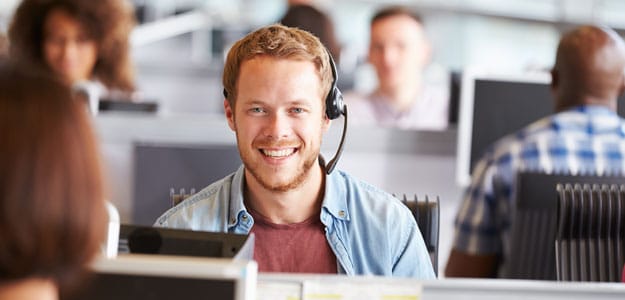 OUR
REMOTE IT SUPPORT

SERVICE INCLUDES:
5

System failure notification

5

Proactive server monitoring and management

5

Network performance monitoring and analysis

5

Flexible IT services

5

24/7 support, at a lower cost

5

Up-to-date skills and knowledge

5

The best troubleshooting and management of today's hardware, software and devices
COST SAVINGS FROM
REMOTE IT SUPPORT

SERVICES
What if you could just pay for the skills required for IT support, without having to pay for full-time employees? When you have an in-house and full-time support staff, you have to pay for their salaries, equipment/upkeep, benefit plans, sick days/vacation days, and office space.
WHEN YOU FACTOR IN BENEFITS, SICK DAYS, TAXES AND RED TAPE, ON AVERAGE:
A business with one employee and one owner faces an average employment cost of $56,770 per worker
A typical business in the 20-49 employee range will pay $40,165 per worker
You also have to recruit and retain these employees, when this is likely not your area of expertise. You have to worry about making sure they're trained on all of today's programs, devices, and best practices. So you have to stay on top of and pay for their training, up-training or re-certification. And of course, someday these employees will leave you. So you have to worry about replacing employees and their skills.
If you outsource your IT support, you completely eliminate these extra costs and worries. You don't have to worry about staffing, you just hire one reliable provider. You don't have to worry about training, we take care of that for you. You don't have to worry about employee turnover, we will always be here for you.
Dynamix Remote IT Support with offices in Toronto & Calgary can fully support, administer and watch over your network, servers and desktops.
Enterprise Network/System Monitoring – Our network operations team provides minute-by-minute monitoring, ensuring you maximum network uptime.
YOUR NEEDS ARE UNIQUE, SO DYNAMIX OFFERS VARIOUS SERVICE MODULES THAT ALLOW YOU TO BUILD A CUSTOM-FIT IT SOLUTION:

5

Proactive remote network and system monitoring and management

5

Regular network performance and activity reporting

5

Web reporting

5

Application and server monitoring

5

On-demand reporting

5

Complete turnkey server management

5

Monthly system health, trend graph, and executive reports with recommendations

5

Upstream ISP network equipment monitoring to resolve Internet connection issues more effectively

5

24/7/365 service, or time-specific coverage, such as after-hours weekdays and weekends and holidays

5

Support services
DYNAMIX OFFERS YOU THE CHOICE OF IT SUPPORT THAT MAKES THE MOST SENSE FOR YOUR USERS AND BUSINESS:
5

Help desk support

5

Telephone support

5

Online support

5

Server support and management

5

Remote and on-site server and/or desktop support
Using the same model of Fortune 100 IT departments, Dynamix engineers can provide server support and management remotely, giving you all the advantages of having your own in-house team without the added expense.
DYNAMIX SOLUTIONS REMOTE IT SUPPORT COVERAGE INCLUDES:

5

Remote server administration

5

Regularly scheduled maintenance tasks

5

Backup management

5

User authentication activity verification

5

Patch management and service pack installation

5

Spyware/Trojan/Virus detection and removal

5

Virus outbreak control

5

Daily safety checks

5

CIO services

5

Vendor management
IF YOU HAVE ANY QUESTIONS ABOUT OUR REMOTE IT SUPPORT SERVICES: