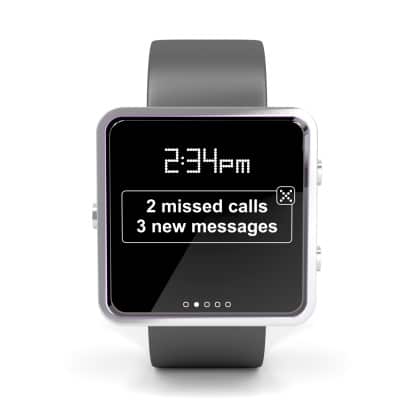 Recent news suggests that the SmartWatch may be more popular than smartphones or computer tablets during this holiday shopping season. This year, at the consumer electronics show known as IFA in Berlin, Samsung and Sony are expected to showcase their early attempts at a combination timepiece/computer/mobile phone worn on the wrist.
Sony has already begun to market its SmartWatch product, however, it won't be available until Sept. 18th at the earliest. The price is expected to range from $104 to $130, and can be purchased on Amazon or eBay. Meanwhile, Samsung has confirmed development of its own SmartWatch device.
Both companies are looking to outshine Apple as much as possible, which is hosting an event on Sept. 10th, at which it's expected to release a new iPhone or two, and possibly something even more exciting. Of course, it's not easy to attempt to outshine a successful company like Apple. If anything can do so, it would be an intriguing SmartWatch.
In addition to being a timepiece, computer, and mobile phone; the company's hiring trends suggest that the SmartWatch will also be a personal health monitoring device. Whereas last year, a patent application from rival Google suggests it's developing a wearable computer with a flexible screen.
All of the technology giants are diving into an undeveloped market set by smaller startups already selling SmartWatches. The Pebble, which received 85,000 orders for its $150 device via the website Kickstarter.com, made news fast. Even more exciting, Qualcomm, the top wireless chip developer, is hosting its annual developer's conference called Uplinq this week.
What's New at Qualcomm?
On August 8th, Paul Jacobs, Qualcomm's chairman and CEO was in Silicon Valley's Computer History Museum partaking in an interview. During the discussion, he acknowledged that Qualcomm has been lacking in the tablet market but is currently working on 40 designs to catch up.
Interestingly enough, when asked about the SmartWatch device he was wearing, he quickly covered it up with his sleeve. We already know that Qualcomm is interested in the SmartWatch market, but was this a slip-up or a marketing stunt?
In addition, on June 26th, Qualcomm filed a trademark application for a device called a "Qualcomm TOQ," described as a "personal communication hub in the form of a wristwatch." While there's no confirmation that Jacobs will unveil SmartWatch technology during his Uplinq keynote on Wednesday, many tech blogs are reporting that he's expected to.
A World Leader in Computing and Next-Generation Mobile technologies
As a leader in wireless technology for over two decades, Qualcomm could easily speed the development of the market significantly by putting its product research behind smart watches. Qualcomm founder and former CEO Irwin Jacobs earned quite a few seminal wireless patents, and the company's wireless CDMA technology has become standard in most advanced phone networks across the world, known as 3G and 4G.
In fact, most of the leading makers of tablets and smartphones, such as Apple and Samsung, license and use Qualcomm chip technology within their devices. Qualcomm is also working on other various technologies with astonishing capabilities, which are being built into the latest Qualcomm chips, called the Snapdragon 800 series.
One of these combines three separate technologies into one wireless development platform, including: image recognition, audio recognition, and geo-fencing, which uses GPS data to alert a mobile device that it's getting close to a certain object or location. Also known as the Gimbal software development kit, or SDK, which allows developers to create mobile apps that have the ability to adapt to a user's surroundings automatically.
Jacobs described it as a "context-aware platform", which the company began testing in December. The Gimbal SDK expands the ecosystem of offerings that are sixth sense smartphone technology; providing new ways for brands, agencies, app developers, service providers, and other industries to offer exciting new user experiences and contextualized utility.
In May, Paramount Pictures used the Gimbal SDK to help develop an application designed for fans of the Star Trek movie, Into Darkness. The app allowed users to locate and interact with posters, billboards and trailers promoting the film with their mobile device.
Vuforia, another Qualcomm platform, will have an intense impact in health care as opposed to impacting Hollywood. Basically, Vuforia is a rival experimental platform to the one that runs Google Glass. Designed to power an entirely new generation of wearable devices, Vuforia can monitor and record human vital signs and various bodily processes.
In order to encourage Vuforia developers, Qualcomm designed the $10 million "Tricorder X Prize," named after the handheld medical diagnostic device in Star Trek. The mission statement of the prize states that it "aims to reinvent health care by creating a device that lets users diagnose themselves."
The purpose of the prize is to stimulate innovation and integration of precision diagnostic technologies, and make reliable health diagnoses available to health consumers, directly to their homes.
2013: The Year of the SmartWatch
The rumored SmartWatch called the Zola, created by Qualcomm, is expected to release during September. Many tech blogs suggest the SmartWatch will be using one of Qualcomm's own entry-level chips along with a Mirasol display.
The Mirasol display is an Interferometric modulator display, offering extensive readability in almost any lighting condition, yet consuming less energy than competing displays. Earlier in the year at the SID display week, Qualcomm showcased a mock-up of a Mirasol-based smartwatch, which is where the rumors originated.
When we consider the fact that Qualcomm already develops most of the critical components of a SmartWatch, and their comprehensive electronics expertise, it wouldn't be surprising for the company to cross over into the SmartWatch market.