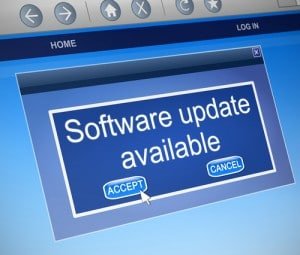 If you've ever called up a software vendor to get business IT support with any software issue, they always ask you what release of the software you are running. It's important to have the latest update, otherwise, the problems you are experiencing might be due to the lack of a specific patch in a missing update. Yet, many business owners fail to keep things updated because it takes time to implement the updates and they fear unexpected issues that they might not know how to fix once the update is complete. One way to get the updates without all the headaches is to simply outsource software solutions, thus unloading the responsibility for future updates too.
Top 5 Benefits of Outsourcing Business IT Support
What if you could get your updates without the hassle of running them yourself? That's what happens when you outsource your IT services to companies responsible for making sure your systems are always up-to-date. Here are 5 benefits of outsourcing your IT solutions.
1. System Matches Advanced Functionality  – When someone is keeping an eye on the update process, they can make sure you don't lag behind the competition because your current release won't work with newer solutions. When you need additional functionality, you just call the outsourcing company and find out if it is in an update or whether you will need to upgrade the system to get new tools.
2. Heightened Security – In this age of hacking, you need to make sure you have the best security patches out there. Keeping your software updated ensures you won't be exposed to any enterprising hacker just because you failed to update your software.
3. More Efficient Software – The updates that fix bugs can really help you increase the productivity and efficiency of your in-house business processes. But, you'll never know unless you keep up with the updates.
4. New Features – Updates can come with new features that you've been clamoring for from your vendor for a long time. Thus, if you update your software, you can get these for free. If you think freezing your systems to an outdated software release saves money, imagine your competitor breezing past you because they're using the latest release.
5. Round-the-Clock Support –  If you need an update, the IT business support offered by a reputable outsourcing company is knowledgeable and available, usually 24×7, limiting any downtime. You don't have to bring in staff on overtime, during off hours or the weekend, to run multiple updates. It can be done off-site, at a time that is convenient for you.
Are you Interested in Outsourcing Business IT Support
With fully Managed Services from Dynamix, we take complete responsibility for your technology requirements, including vendor management and maintenance, remote and telephone support, system updates and expert advice at every step of the process.
If you have any questions about what our Managed IT Services can do for you, please contact us today.