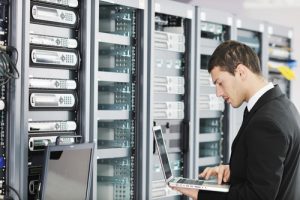 The benefits of managed IT systems are almost too numerous to list – and if your company hasn't transitioned yet, then it's time to seriously begin thinking about making the change.
What is Managed IT?
Managed IT is an electronics setup where the majority of hardware and software is kept off-site, typically at a secure facility independently owned and operated by a single company. Certain items cannot be taken away from the office, including desktop computers, printers, and other elements of hardware – but servers and other bulky items don't need to be on the premises. There are three major benefits to having IT systems managed independently, they include:
Minimal Downtime
Downtime is one of the worst problems a company can experience, especially if it relies on its site being available to do business. Independent management of IT systems allows for a setup where servers can be kept online effectively continuously – and if the physical hardware itself fails, then recovery is as simple as applying a backup to a new server and starting it up. Most businesses can afford to have the minimal number of servers they need, but it's far more difficult to privately own a complete backup system.
Focus on Customers
It's not enough to create web pages, customers are expecting more than ever before from the companies they do business with. Outsourcing most IT hardware gives tech personnel the opportunity to focus on creating content and interacting with users.  This allows for marketing campaigns that are more complex, more capable, and more likely to produce measurable results
Increased Revenue
As a direct result of the first two benefits, many businesses have found that switching to managed IT services is a major factor in increased revenue. The benefits are two-fold: First, the drastically lower hardware and personnel costs allow for a lower IT budget, freeing up cash for the business. Secondly, this freed cash can be used to improve marketing campaigns and generate a greater return on investment, which directly contributes to increased revenue for the company.
Switching Over to Managed IT Services
The change from an in-house setup to an external provider is a major step in the development of any company. Major companies like Google and Amazon can run their own in-house systems, but internal IT is no longer the best choice for most businesses. With that in mind, what should you know about switching over?
First of all, be sure that your new setup is sufficient for your needs as a company. Scaling your operations is very easy with managed IT, but you should have a good estimate of the amount of bandwidth and hardware you'll need.
Once you have that, talk with your provider about the amount of control you'll have over the systems, as well as any special needs you have as a company. There will be a period of uncertainty when you switch over, but this will disappear as you get used to the changes managed IT provides.