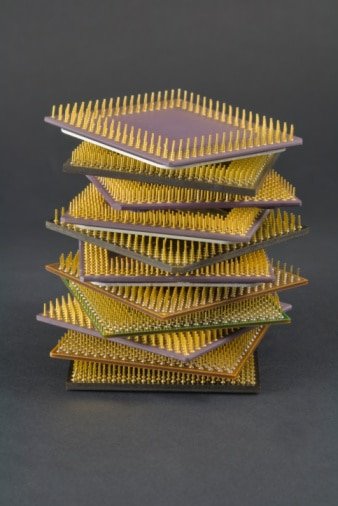 Recently, Intel announced plans to release new Atom chips for tablets and smartphones by 2016, boosting the overall CPU performance by 5 times and the mobile chip graphics performance by 15 times.
Intel's chips are used in certain smartphones, whereas ARM processors are used in a majority of tablets and smartphones. Intel strives to obtain performance leadership with the new chips, improving battery life on devices as well.
Intel will be shipping a high-performance mobile chip, which the company has code-named Cherry Trail, by the end of 2014. The mobile chip will include Intel's next-generation graphics. After Cherry Trail, a faster and more power-efficient chip will be released, code-named Broxton, shipping in 2015 and based on a new CPU core, which has been code-named Goldmont.
Intel plans on designed the Broxton chip differently than previous chips. Broxton will be built into a "chassis," Intel's name for a design which other components can be easily connected. According to Intel CEO Brian Krzanich, the Broxton design offers the ability for derivatives of the chip to be created more rapidly. After Broxton, a high-performance dual-core chip code-named Merrifield will be released for smartphones. Intel will design Merrifield using the 22-nm process.
The 64-bit Atom chips are based on new CPU and graphics cores. Intel plans to begin planting the chips within smartphones and devices in 2015. The initial lineup offers two high-performance mobile chips, as well as the first Atom chip with an integrated modem included for low-priced devices.
According to Intel, the new mobile chips will be made using its 14-nanometer process. Ultimately, the process is expected to provide significant performance and power benefits. In late 2014, consumers can expect a chip code-named Sofia in entry-level smartphones.
Intel executives explained that the company has to catch up with the evolving smartphone and tablet markets. The chips will be released much earlier than planned.