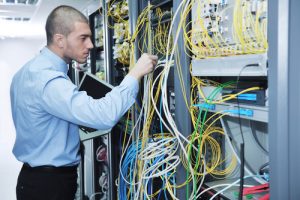 Many companies rely on their business IT support to keep their computer systems running smoothly at all times, which often includes regular hardware maintenance. Most of the time, hardware maintenance falls into the preventive and predictive categories, which helps keep systems on-track and prolongs their life. Without doing this, companies are often faced with unexpected downtime due to system failures that can cost thousands and involves complex repair work.
Downtime can Cost Your Business
Like most companies, your employees will need access to their hardware and devices during the day so they can be fully productive, meet your business's targets, and keep revenue coming in. Just a couple of hours' downtime can have a detrimental effect on your business and can cause it to grind to a halt, leading to frustration and annoyance for both your staff and clients.
However, what if you could schedule your hardware maintenance so that your company could face little to zero downtime, and is scheduled around your business's needs? With a bit of planning and forethought, it's entirely possible.
With that in mind, we're going to go over some of the best practices and things to consider when your business IT support is planning hardware maintenance for your company.
Give Advanced Notice
Communication is key when it comes to scheduled maintenance. Consider communicating with employees weeks in advance of any downtime you are planning. You may also find it beneficial to publish a schedule or maintenance so that people will know when the systems will be down. This can allow plenty of time for employees to grab files or resources they might need.
Schedule Maintenance off-hours
A lot of the time, businesses simply cannot afford downtime – especially if it leaves your employees unable to access their computers for any length of time. This is why scheduling hardware maintenance in off hours, such as evenings and weekends, is a beneficial way to do things. This could mean paying overtime to your business IT support team, but in the grand scheme of things, it could save you a considerable amount of money for times when a complete hardware upgrade is necessary that would otherwise bring your entire company to a standstill.
Work Around Employees' Schedules
Another approach is to talk to your employees to find a window that works best with key members in your team, so that your minimal downtime comes at the best possible time. For instance, you could set hardware maintenance for a Friday at 11am, when the entire team has a scheduled meeting until lunch.