[vc_row][vc_column][vc_column_text]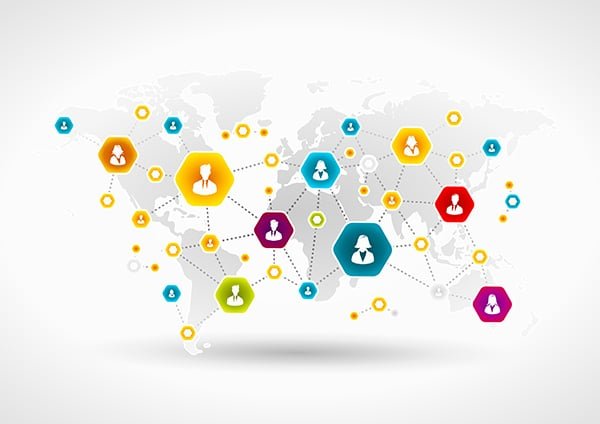 [/vc_column_text][/vc_column][/vc_row][vc_row][vc_column][vc_column_text]In the world today, we see an increasing amount of distributed workforces. Whether people are looking to work from home, on the road or out of the country, we are seeing an increasing number of people who are not going into the same company office every day.
While this can be effective for many employees, it can prove to be a challenge for some businesses, meaning that they have to adapt to how they are managing their workforce.
A recent New York Times study has revealed that working from home can increase productivity by 13%, so it is worth the effort for businesses to look for the best ways to help those who want to work remotely.
The main challenges that distributed workforce companies face are about communication between people and communication of information. However, with good technology and good remote teams best practices, these challenges can be overcome.
Managed IT services for small businesses can be quite useful for the communication of information amongst businesses – for example, the use of an intranet, virtual desktop technology and reliable connectivity can help to keep people connected even though they might be thousands of miles apart.
So, what can businesses do to manage a distributed workforce effectively? Also, what are the best practices for remote teams that should be employed to keep the business running smoothly?[/vc_column_text][boc_divider divider_color="#eeeeee"][boc_heading html_element="h1″]1. Employ the RIGHT people [/boc_heading][vc_single_image image="4004″][vc_column_text]The first step to distributing work in a team is to ensure that you are hiring the right people to be working remotely. Not everyone is suited to working for home – they need to be self-motivated and dedicated. Often people who have worked for themselves previously are good candidates for this as they usually have the discipline to be able to work effectively from a remote location. They should also be good communicators through non-face-to-face means, such as email or on the telephone.[/vc_column_text][boc_divider divider_color="#eeeeee"][boc_heading html_element="h1″]2. Give them the RIGHT technology [/boc_heading][vc_single_image image="4003″][vc_column_text]You can't expect your distributed workforce to work effectively if they don`t have the right tools. You need to ensure that they all have access to the information that they need, such as your business's email, directory, files, finance systems, CRM and intranet to enable them to do their work properly. For small businesses, managed IT services can help you to give the tools to everyone that needs them. Cloud technology has proved to be central to enabling information to be shared regardless of location, and there are now several other technological advances which can give you a seamless two-way communication and file access wherever you may be in the world.[/vc_column_text][boc_divider divider_color="#eeeeee"][boc_heading html_element="h1″]3. Face-to-Face [/boc_heading][vc_single_image image="4005″][vc_column_text]It is important that even though they might not be in physical contact 100% of the time, that you allow your employees to get to know each other – even if it is just professionally. Building relationships are important in business, and distributed workforce companies need to encourage their employees to talk to each other face-to-face. If it cannot be in the same place, suggest video calling. This can be done easily with Skype or FaceTime on their laptops, but different technologies can be used to make it more effective such as video phones or big screens in meeting rooms.[/vc_column_text][boc_divider divider_color="#eeeeee"][vc_column_text]Knowing how to distribute work in a team can be tricky for a business – especially one which isn't used to it, but it can prove to be worth it in the long run regarding the productivity of your employees. The key to the success of a distributed workforce company is by having the right people, with the right technology. By ensuring that they have the same real-time information in their remote location as they would in the office and are self-motivated enough, you can ensure that your employees are happy and effective as a distributed workforce.
Here at Dynamix Solutions we can offer managed IT services for all the technology that your business needs for an effective and productive distributed workforce. So why not get in touch with us today for more information about how we can help your business?[/vc_column_text][/vc_column][/vc_row]