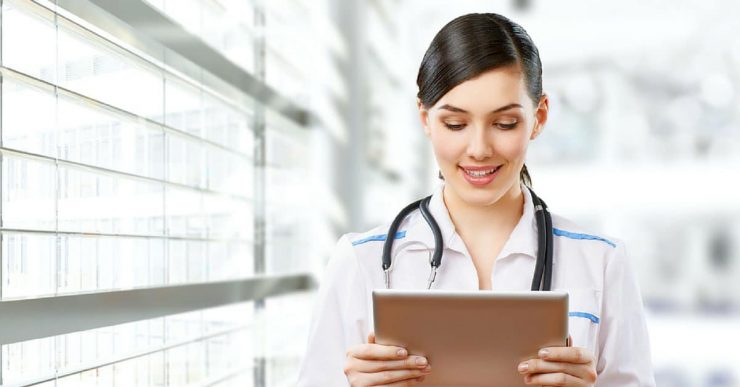 According to the 2014 HIMSS Analytics Cloud Survey published by HIMSS Analytic, 83% of healthcare providers have switched to cloud based services, with SaaS (software as service) based applications being the most popular (66.9%).
The Porter Research study found that 58 percent of C-level hospital executives "place a high importance in cloud-based technologies,"  with a Dell survey in late 2014 finding that revealed 96% of mid-sized healthcare organizations are currently using or plan to use cloud solutions, with 64% stating they are "very confident" that their cloud data is safe
Modern healthcare information technology can empower care delivery organizations as they digitize, electronically move, and store patient health data across the world in a matter of seconds. Although the switch to the cloud is inevitable, there are still a few holdouts that are refusing to join the cloud.
Electronic medical records are too centralized
Present-day electronic medical records (EMR) are very centralized, and collecting the medical information of patients whose records are scattered among different healthcare providers can be a challenge, especially in case of emergency. How many patients are lost or endangered each year because their healthcare provider was unaware of an allergy or what medication a patient was using? Using the cloud will create a universal patient health information structure to allow quick access of all the required information.
Cloud Services Enables Faster, Better Big Data Management
Digital healthcare data totalled 500 petabytes in 2012 and is expected to reach 25,000 petabytes in 2020. As cloud computing eases global healthcare management, big data will cuts costs through predictive analysis of this massive amount of data. Because traditional data management tools cannot analyze, store, or process these huge data sets, proper management of big data will be almost impossible without turning to cloud computing, and will very quickly become quite costly.
Cost reduction
Data storage is expensive. Backing up this data is expensive and time-consuming. Between hiring an IT team, covering power costs, upgrading outdated machines, and general upkeep, running your own server and data storage units can quickly run into the thousands. By using a cloud based platform, you can easly reduce these costs to a small monthly fee, and safely secure your data, and your patient's data, in the cloud. Better allocation of your IT resources, and reduction of the costs that come with IT, can be a major benefit to your company.
Do You Need Cloud Services?
Considering the cost benefits and additional flexibility that businesses can enjoy by switching to cloud-based computing, all organizations should strongly consider moving at least part of their data to cloud based servers. At Dynamix Solutions, we can set up and manage your business' cloud solutions.
If you have any questions about what our Cloud services can do for you, simply "Request a Quote" or call us at our Toronto office (416) 657-2449 or our Calgary office (403) 456-2183.