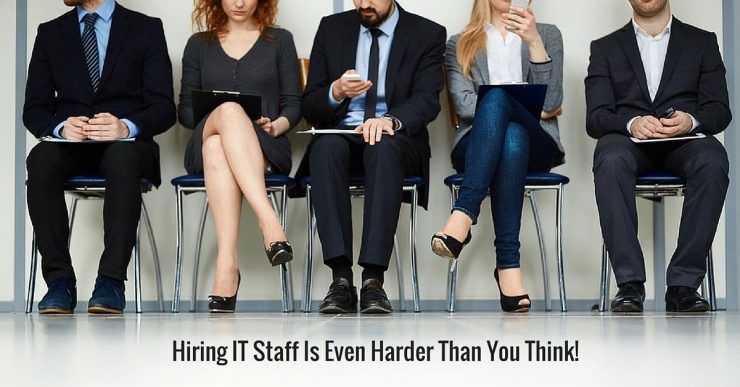 Do you need to hire a new member for your IT department? Don't count on it being a simple or quick process.
Hiring IT staff is full of challenges – more so than trying to find new employees for other departments. Read on to learn more about why it's so hard, and what you can do about it.
Low Unemployment Amongst IT Professionals
One of the reasons it's so hard to find IT professionals is because they're not really looking for jobs. Unemployment amongst IT staffers is lower than that of employees in other industries.
Why is that the case? Some IT professionals are nervous about leaving their secure jobs for something new, even if that opportunity is better.
Changing Qualifications
Another reason it's so difficult to find IT staff is because the pace of technological development is not keeping up with the education system.
One example of this is software-defined networking. It's a fairly new development in the field of networking. As such, many networking engineers have to learn about this new approach.
Just because someone has been certified by a certain vendor in a given solution does not make that person an expert. What it might mean is that this individual will make his or her an employer a customer of that vendor, and the company will become locked into a certain set of solutions.
"Soft" Skills
The British comedy "The IT Crowd" represents an old view of IT staff: IT professionals have no people skills, they dress terribly, and they should be relegated to the bowels of the building so they can't be seen or heard.
Even though "The IT Crowd" aired from 2006 until 2013, its characterizations of IT staffers are outmoded. Today, IT professionals need to have excellent people skills, and they need to be able to communicate well. Having technical skills and knowledge isn't enough – you need to be the right fit for the working environment.
Dynamix Solutions: Your Trusted Source for Managed IT Services
Are you looking for IT staffers, but can't seem to find the right fit? Our firm can handle all of your IT needs.
Dynamix Solution's experienced IT professionals have been managing their clients' systems since 2001. With our 24/7 service, you don't need to worry about your vital digital resources shutting down or crashing unexpectedly. Let us take care of your IT needs so you can focus on running your business. Call us now at 1-855-405-1087 to learn more.