Cybersecurity's importance to modern-day businesses and organizations can never be underestimated. As we morph further into the digital age, more and more enterprises rely on cybersecurity for quality assurance of their data, programs, and networks from the attack of cybercriminals.
There is a growing need for cybersecurity professionals in the 21st century. The role of a cybersecurity expert has been to anticipate cyber threats in advance and subsequently prevent or quell any form of a security breach in computing systems.
7 Typical Categories of Cyber Security Threats
1. Malware
Malware is software developed to inconvenience a computer's normal functioning process. It involves Trojan viruses and destructive programs that infect computer networks and systems to gain access to sensitive data.
2. Emotet
Emotet is a Trojan virus that specifically spreads through spam emails. Its infection may come either via a malicious link, macro-supported document files, or malicious scripts that use tempted language to persuade users.
3. Denial of service
Denial of service is an undesired attack intended to shut down a network or machine, thus impacting its accessibility to anticipated users. These attacks are accomplished by flooding intended targets with vast traffic.
4. Man in the middle
Man in the middle is a category of cyber-attacks where communication between parties is hijacked, mostly to spy on victims, steal login credentials, sabotage communications, or corrupt data.
5. Phishing
Phishing is a social engineering attack mostly used to steal user data such as credit card numbers and login credentials. These attacks can enable access to your data and online accounts to obtain unwarranted permissions to alter and compromise networked systems.
6. SQL injection
SQL injection is a category of injection attacks that enhances the execution of malicious SQL statements. These SQL statements govern the database server through a back web application.
7. Password attacks
Password attacks involve numerous methods used to maliciously authenticate password-protected accounts. It involves manipulating breached authorized vulnerability in a connected system through automatic attack tools.
These kinds of threats often lead to system breaches and data loss, which, as a consequence, are becoming a huge problem in many business environments.
It has, however, been a relentless journey in the pursuit to find counter-active solutions to tackle the loopholes within cyber systems. In cases where the existing system has been compromised or isn't efficient enough to nip these activities, cyber security experts completely overhaul the system to come up with entirely new solutions and fix the system's vulnerabilities.
The field of cybersecurity is very important to companies and organizations that handle and process sensitive data in their day-to-day operation. To ensure data safety, it is important for organizations to put in place solid cybersecurity frameworks to create reliability, accountability, sustainability, and transparency on all cyber channels.
BENEFITS OF MANAGED Security SERVICES
Organizations and businesses everywhere face the constant risk of attacks on their systems. It is important that businesses remain in the loop to ensure the protection and integrity of their sensitive data.

Here are a few benefits of having a reliable cybersecurity framework:
Reduce costly risky incidents
Involving services of managed security personnel helps lower training costs, pay unqualified staff, and engage in unprecedented investment activities. As such, organizations will rally to reduce unnecessary costs to increase their productivity and better their risk assessment procedures to manage incoming system security threats well.
Maximize efficiency
Managed security systems provide your team with on-demand security experts to build effective security systems. The experts utilize full stack security technologies in providing solutions such as protection testing, security engineering, project management, and configuration management. The solutions enhance organizations' efficiency.
Security and threat monitoring
With well-laid security tools, an organization can monitor threats through automated alerts in case of data breaches or cyber threats. IT security infrastructure is crucial in detecting unauthorized system changes on your organization's network or any suspicious behaviour, thereby defining appropriate trigger alert systems. The alerts give accurate responses before data breaches happen, thus improving your security data systems.
24/7 IT security services
Through managed security services, the safeguarding of organizations' security can be done through integrated solutions at any time. This enables effective and on-time responses to emergencies and identifies accountable means of upscaling security threats. Also, 24/7 security services harmonize data collection and computation in real-time, easing the follow-up process.
Dedicated technical expertise & validation of security methods
Managed security services allow organizations to access qualified technical experts who are familiar with cybersecurity threats. With adept and tactile technical experts, your organization can incorporate them to validate your systems with proficient security methods to discover potential threats to offer needed security.
Improve your security culture & nurture security awareness skills
With managed security services in place, an organization can enhance its security culture with improvisation of overhaul systems. This means all in-house employees of a company will conform to nurtured norms of integrated security solutions, thus gaining awareness of cyber security threats.
If you have any questions about our Cybersecurity services:
Simply call us at our Toronto office (416) 657-2449 or our Calgary office (403) 456-2183.
Cybersecurity Services We Offer in Toronto & Calgary
Dynamix Solutions is flexible, reliable, and highly reputable. When you meet with our cybersecurity experts in Toronto and Calgary, you will get the following service:
If you have any questions about our Cybersecurity services:
Simply call us at our Toronto office (416) 657-2449 or our Calgary office (403) 456-2183.
How Our Cyber Security Consultants Help
1. Assessment and Planning
Our security consultants define well-stipulated plans that outline vivid expectations, performances, and standards for your organization's operations. This helps identify gaps in cyber security threats to gauge the right testing techniques for your security systems. In addition, utilizing testing methods helps measure outcomes and evaluate the success of improving your security systems to counter any detected threat.
2. Setup and Implementation
Through our experts, your organization can get well-documented plans coupled with tasks that can help in monitoring and detecting cyber security threats. These engineer your plans in realizing resources needed, software components, and approved accredited institutions to help you secure your systems in an appropriate way.
3. Management and Support services
Our professional experts in Toronto can help you get the necessary information and resources good for managing plans and making informed decisions. With this information, you can proactively plan integrated security solutions by giving immediate feedback using data analytics tools to fast-track the functionality of your system.
Why Choose Dynamix Solutions
Dynamix Solutions is one of the best IT service providers in Canada. Our team of professionals is here to help you achieve integrated security solutions.
Reach out to us remotely through our website, or come in person to our offices in Calgary and Toronto. Partnering with Dynamix Solutions is the best decision you can make to elevate your company's productivity.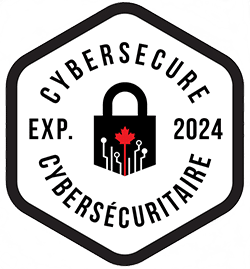 We have a CyberSecure Canada Certification
Choosing Dynamix Solutions is an excellent approach to increasing your confidence assurance and cybersecurity knowledge, as we are recognized by Canada's federal certification and global certification institutes. Working with us will promote your cybersecurity baseline, uphold global standards, and compete favourably to be reliable and demonstrate technical competence.
Reduce the technological burden for your company
Leverage integrated solutions by engaging your needs with our company's latest technologies, including machine learning and artificial intelligence. Receive automated alerts, proper software and systems control, and prompt communication.
Design customized solutions for your company
At Dynamix Solutions, we develop and design customized solutions that suit your company.
Our methods and techniques are updated at all levels
At Dynamix Solutions, we keep up with the latest technologies. Our techniques and methods are well structured with modern tools within all levels to simplify the functionality of computer software and systems.
Access to a pool of high-talent cybersecurity experts
Engaging with us at Dynamix Solutions means access to experts in cybersecurity. Our professionals will inform you about approaches to cyber threats, measures to undertake, and resources to use.
We use cutting-edge cyber security methods
Our company provides all necessary cyber security measures, updated programs, strong passwords, use of firewalls, and improvised security software. All this helps you raise awareness and monitor intrusions of online threats. We employ the latest software and operating systems to manage and control cybersecurity threats.
Go for quality: engage our cybersecurity services here at Dynamix Solutions. We are the best cybersecurity solutions provider in the GTA area and Calgary. Contact us now!
Frequently Asked Questions
EXPERT INSIGHTS FOR YOUR BUSINESS
How Much Does Cybersecurity Cost?

In today's digital age, where data breaches and cyberattacks have become increasingly common, the question of how much cybersecurity costs is more important than ever. Businesses and individuals alike are faced with the need to protect their sensitive information and …

Read more

How to Build a Proactive Ransomware Protection Strategy

In today's digital age, where businesses rely heavily on technology and data, the threat of ransomware attacks has become a menacing shadow lurking over organizations of all sizes and industries. Ransomware attacks involve cybercriminals infiltrating a company's systems, encrypting valuable …

Read more

Why Cybersecurity is Important in Healthcare Sector?

The healthcare sector is one of the most essential sectors in any country's economy, yet it is also one of the most disregarded and vulnerable in terms of a robust cybersecurity posture. It is constantly confronted with increasing cyber threats …

Read more