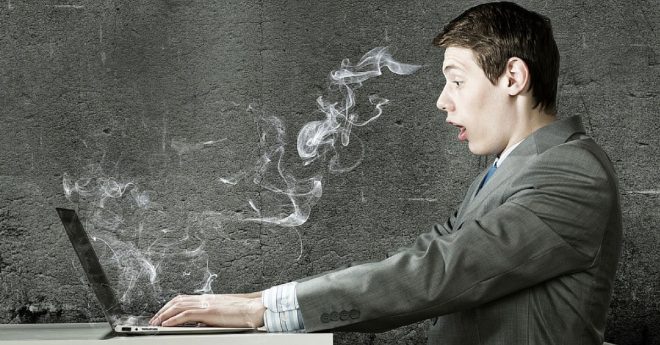 As a small business owner, you're an expert on the product or service that you are selling rather than information technology – unless, of course, your business makes money by providing IT solutions. For everyone else, information technology is just another annoying chore that has to be dealt with.
Treating your IT systems as an afterthought is a mistake that small businesses make far too often, leading to headaches that waste time, or even worse, stall the growth of your business. Avoiding IT mistakes, especially the deadly ones ensures that your business doesn't suffer due to neglect.
Obsolete Software and Hardware
While technology has progressed to make Moore's Law obsolete, that doesn't mean that your hardware and software systems should be similarly dated. IT's not necessary to be on the bleeding edge of information technology, but it is important that small businesses keep pace with innovations that help them compete with the big fish in the pond.
Insufficient Security
Part of the problem of obsolete hardware and software is that it leads to gaps in digital security that hackers and other malcontents can use to make your life hell by stealing your information or even holding your business hostage through a digital kidnapping of your data. Considering the numerous reports of hackers stealing from giant companies such as Target and Sony, smaller businesses should consider data security to be top-of-mind at all times.
Lack of Communication
When implementing IT solutions, it's vital to know that the people who are using these systems are getting the most out of them. Discuss IT requirements with your employees and survey customers on how to best serve them in the digital realm. Communicating leads to a greater understanding of what needs to be done with your data systems.
Not Backing Up Data
One of the most important features of IT is also one that can be easily neglected: the continued survival of the integrity of your data. As a small business, you can never have enough backups of your backup in case unforeseen events somehow wipe everything out. In addition, to have a physical backup through physical media, utilizing cloud storage services ensures that the information of your business survives even the most unlikely of disasters.
As a small business owner, you're constantly juggling multiple roles and duties to make sure that everything runs smoothly. If you find yourself having trouble avoiding these IT mistakes that small businesses tend to ignore, contact experienced IT people such as Dynamix Solutions to see what they can do to solidify your information technology.