Cloud services are platforms, software, or infrastructure hosted by third-party providers and delivered on-demand to customers through the internet. They facilitate the exchange of user data between front-end clients and the provider's systems. Cloud services can only be accessed when the user has a computer, internet connectivity, and operating system.
There are multiple types of cloud services, including every software, infrastructure, and platform that users can access over the internet without any additional software downloads. Also, we have as-a-Service cloud solutions such as Software-as-a-Service, Infrastructure-as-a-Service, Function-as-a-Service, and Platform-as-a-Service.
Cloud-based services involve pooling and sharing scalable resources and applications over networks. Like any other IT solution, our cloud services rely on software and hardware, and that's nothing other than a computer, operating system, and network connection.
You only pay for the cloud services you use, helping you to significantly lower your operating costs, scale, and run your infrastructure more efficiently.
Cloud services and solutions are managed by cloud computing service providers and vendors. Since we make our cloud computing services and technologies available from our servers, you don't need to host the applications on your servers. At Dynamix, we ensure our Toronto clients have unlimited access to their cloud data, so they experience the enormous benefits of cloud services and solutions.
BENEFITS OF

Cloud SERVICES
Cloud services have become the latest trend worldwide, and almost every company is adopting the trend for smooth business operations. At Dynamix, we take pride in offering the best cloud services for businesses around Toronto. We help any business shift from the traditional ways of business. Here are the top advantages you will enjoy once you turn to our Toronto cloud services:
Lowered costs
Our cloud computing services help you cut the expenses of purchasing software and hardware and setting up and operating data centers. It's costly to hire IT experts for managing your infrastructure, racks of servers, and round-the-clock electricity for running the infrastructure.
Automatic software updates
At Dynamix, we maintain your systems and take care of every software update. Thus, we save you time for maintenance-related practices creating space for better things that matter to your company, like growth and development strategies.
Advanced security
We offer broad sets of controls, technologies, and policies that strengthen security. Data stored in the cloud can be accessed at any time, anywhere, even when your machines fail. Our technologies also help you to wipe data from host computers to prevent unauthorized information access.
Increased collaboration
Your team can easily access, share, and edit documents from anywhere with our cloud services and solutions. Your team can make real-time updates and changes with cloud-based workflows and file sharing.
Cloud SERVICES

Provider in Toronto
At Dynamix, we offer end-to-end cloud services to businesses of all sizes across Toronto to help them leverage our expertise for improved security, stay competitive, and drive better business results. Cloud service providers have been accepted worldwide, and we help you navigate the tech space and select the ideal cloud technology that suits your business needs.
Here are the most commonly used cloud-based services we offer:
CLOUD BACKUPS
Dynamix offers online backup solutions that enable you to recover your data easily and eliminate any labor associated with managing hard drives and tapes once your systems crash. Our cloud services help you avoid the problems experienced when critical information and data are lost by having a secure online cloud backup.
REMOTE FILE SHARING & COLLABORATION
Our cloud solutions allow you to have your file server on the cloud for streamlined access on any device anytime by your entire staff. Additionally, those that still need an onsite server can utilize unique add-ons to select specific files to make them available on the cloud.
E-MAIL
Email is one of the primary communication methods in almost all companies. We keep your lines of communication open with e-mail hosted in an advanced data center.
CRM
We ensure your team has full access to all your lead/client information and empower them to be more productive when they are not on site.
MICROSOFT OFFICE 365
Dynamix facilitates an easy shift to Microsoft 365. We help you choose your preferred subscriptions and settings and also perform the Microsoft 365 setup for you, migrating all your emails, documents, calendar items, and contacts.

Security in Cloud Computing
Technology is dynamic, and our team of professionals helps various businesses to adopt the latest technologies for better security. When we deploy our proactive cloud services, we ensure your networks are secure and all staff has complete access to the data. We set up and support powerful and secure cloud solutions to serve our clients.
Dynamix Solutions helps you secure and manage your cloud systems by:
Secure remote work solutions
Digital loss prevention solutions and data recovery
We control who can log into your database and identity access management
Our cloud security primarily consists of technological procedures, policies, and controls that work together to protect the cloud-based systems, infrastructure, and data. We implement cloud computing measures configured to fully protect your data and privacy, support regulatory compliance, and set authentication rules for various devices and users.
We can configure our cloud computing security to the needs of your business, from filtering access to authenticating access. So, we make the establishment of cloud security protocols a joint responsibility between our cloud team and every client.
At Dynamix, we understand and take into consideration that robust cloud computing security is imperative for businesses transitioning to the cloud. We focus on offering the best security measures specifically customized for your cloud infrastructure.
IF YOU HAVE ANY QUESTIONS ABOUT OUR CLOUD SERVICES:
Simply call us at our Toronto office (416) 657-2449 or our Calgary office (403) 456-2183.
Types of Cloud Services Provided by Dynamix Solutions
Dynamix Solutions is a global software service provider in Toronto that addresses your software needs by providing exceptional Cloud computing solutions for your company. We use innovative technologies to offer revolutionary services, including the following:
Software as a service (SaaS)
Our Software as Service (SaaS) offers software applications via the internet either on a subscription basis or when demanded. It works through a delivery model; therefore, as a Cloud service provider, we can host and manage software applications along with their underlying infrastructure.
Any application developed can be accessed through any device with a network connection, typically on web browsers. SaaS helps users handle different maintenance issues like security patching and software upgrades, and deals with various services, primarily web-centered emails, backup and storage files, and tools for project management.
However, the core operating and hardware system for SaaS is inappropriate for end-users, since accessing the service either by app or web browser is purchased on a per-user or per-seat basis.
Users can swiftly access, secure, share, and store information in the online Cloud in all these software applications. Different parties use SaaS applications, including business users, IT professionals, and personal users.
The products of SaaS are regularly marketed among B2B and B2C users – that is, business to business and business to customers, respectively. SaaS products range from individual entertainment like Netflix to advanced IT tools.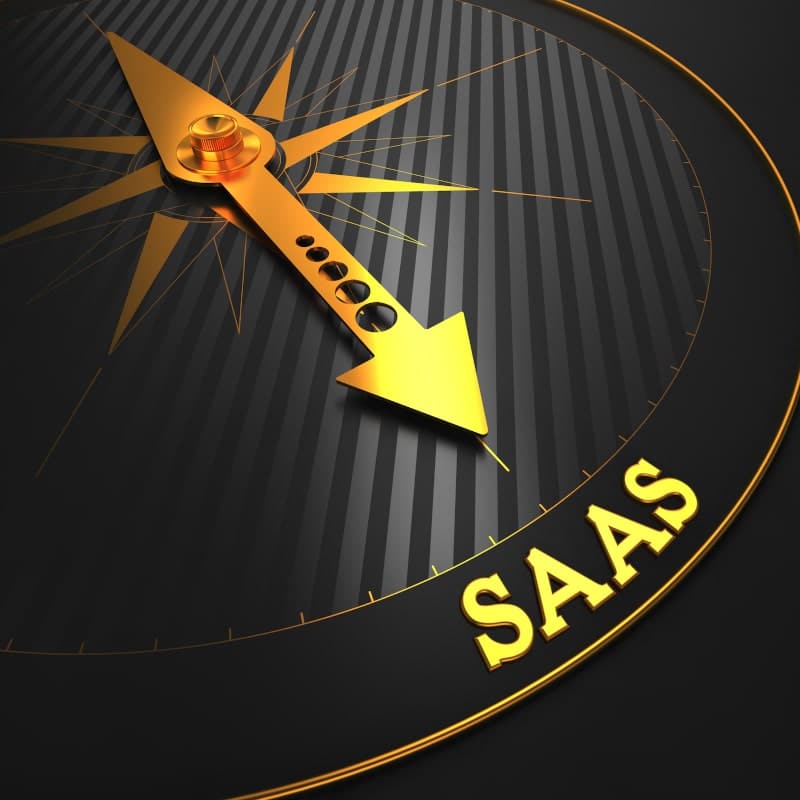 Infrastructure as a Service (IaaS)
Infrastructure as a service is a Cloud service that provides the necessary infrastructures needed by Cloud providers to manage SaaS tools without their maintenance. IaaS helps you rent Information Technology (IT) infrastructures like virtual machines and servers, networks, storage, and operating systems through a Cloud provider using the pay-as-you-go approach.
Notable service providers for IaaS include Microsoft Azure, Google Compute Engine (GCE), and Amazon Web Services (AWS).
All providers help maintain networking hardware and storage servers; as Service providers, we offer application firewalls and load balancing. Prominent SaaS providers run their applications on IaaS platforms to minimize the extensive need to manage software services.
IaaS is suitable for companies that need to build ground-level applications and fully control almost all aspects and elements. Also, it does not require companies to have technical skills to coordinate services at each level.
By migrating to an IaaS solution, your organization can be on the verge of minimizing the maintenance of having data centers and saving hardware costs. Your business can also get real-time operational business insights through the flexibility of scaling your IT resources based on demand. Moreover, IaaS allows you to bypass the complexity and cost of purchasing and managing data center infrastructures and physical servers.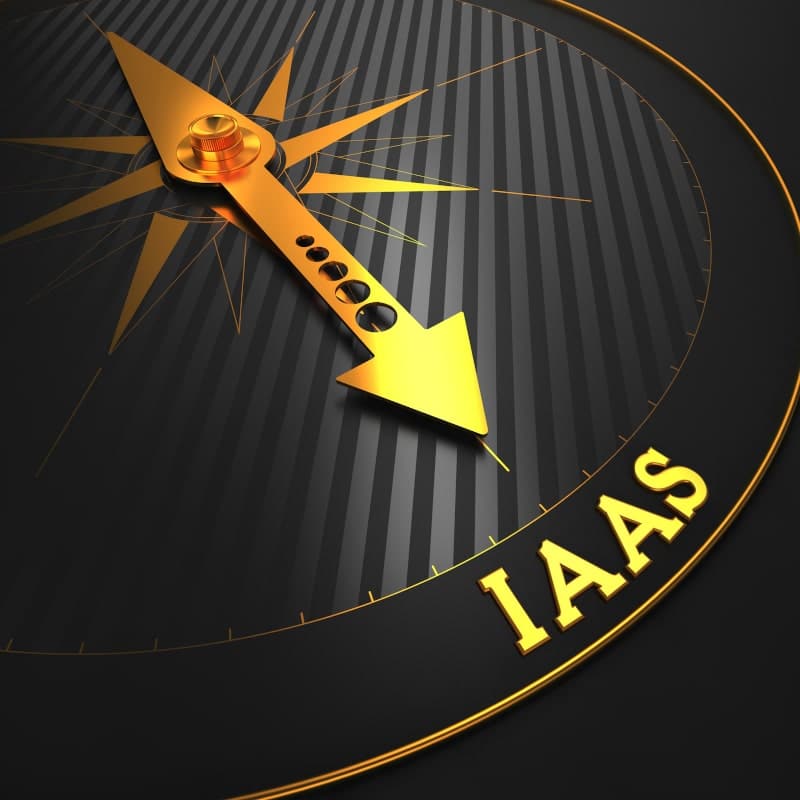 Platform as Service (PaaS)
Platform as a Service is a prolific Cloud service that serves a web-centered environment for developers to build, deliver, manage, and test software applications. The design of PaaS eases the work of developers in creating mobile and web applications with minor disturbance of setting up and managing the laid infrastructures.
Numerous infrastructures for servers, networks, storage, and databases integrate seamlessly with PaaS platforms, making working with them easy.
The layer up of PaaS is a room provided on top to developers with the necessary software and tools for developing applications. The developer's activity can be scaled up using developmental tools, middleware, operating systems, and database management.
PaaS opens a clear path to avoiding the expenses of buying and running software licenses, container orchestrators, middleware, and respective application infrastructures. You will only manage the services and applications you create, and the Cloud service provider will undertake all other tasks.
PaaS is used in development framework to build and customize Cloud-centered applications using diverse components. Improvised Cloud features like multitenant capability and scalability are included, significantly reducing developer coding time.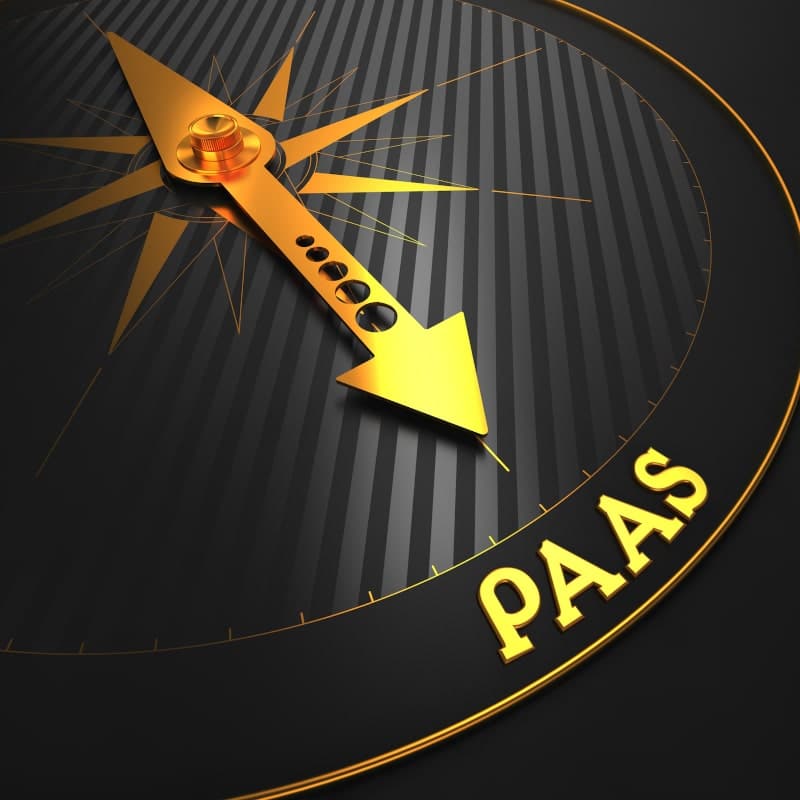 Cloud Service Options for Your Business
As a global IT service provider, Dynamix Solutions offers alternative Cloud services essential for the growth and long-term development of your business. Our services are all expertly designed, and integrated with the latest technologies.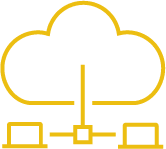 Public Cloud
Public Clouds are Cloud computing platforms specifically owned and used by another party called the third party to deliver essential computing resources through the internet. The Cloud relies significantly on the virtualized environment to help widen the company's IT infrastructure for virtual servers usually owned by a third party.
The public Cloud, like Microsoft Azure, manages and owns the hardware and software components, as well as supporting infrastructures like servers & storage.
The alluring benefit of the public Cloud is its rapid potential to scale up a service to a large pool of users. Essentially, Cloud computing suppliers have enormous computing power that is shared between a large number of users.
The massive scale of computing power ensures adequate space if customers need more resources. Therefore, the public Cloud is often used for less sensitive applications in demanding fluctuating amounts of resources.
Even though security concerns have culminated over public Cloud computing platforms, when implemented appropriately, they can be a prolific secure site, and require proper security means like Intrusion Detection and prevention systems (IDPs).
Examples of public Clouds are SaaS, PaaS, and IaaS. They provide Cloud services to the public, thereby helping companies bridge employee capabilities of sharing resources of a wide range.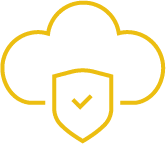 Private Cloud
Private Clouds are the extensive Cloud computing resources used only by a given organization or single business unit. The private Cloud is usually located within the company's on-site data center.
Additionally, some companies do pay third-party Cloud service providers an agreed amount to host essential services on their platform. Therefore, the private Cloud is appropriate for maintaining services and infrastructures in a private network.
The private Cloud enables companies to fully control where their data is held and create any needed infrastructure. Developers can access enormous computing power that scales up the demand and, by virtue, tightens the platform's security.
However, improvised security comes with additional costs that companies will need to incur; thus, companies will not achieve the desired economies of scale. Also, companies that need extra protection for their resources should consider the public Cloud as an excellent stepping stone.
This will enable firms to understand Cloud services elaborately and restructure all internal applications for the Cloud. Private Clouds offer an excellent level of privacy and security through internal hosting and firewalls to ensure sensitive data and operations aren't accessible to unauthorized third parties.
Managing the private Cloud is sensitive, since IT departments take responsibility for operating the platform's accountability and cost.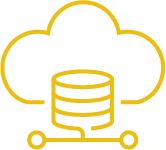 Hybrid Cloud
A hybrid Cloud combines private and public Clouds connected by technology to allow applications and data to be shared amongst themselves. Hybrid enables seamless movement of data and essential information between the public and private Clouds.
This ensures your business gets numerous deployment options, greater flexibility, and a chance to optimize existing critical infrastructures.
Establishing the hybrid Cloud platform involves the use of three components. Firstly, you will need a public infrastructure that will act as a service platform like Microsoft Azure. Secondly, ensure you can access private computing resources like your on-premises data center. Thirdly, seek an adequate network connection for the hybrid network for public and private Cloud environments.
Hybrid Clouds open up a single structured environment that allows private and public resources to work concurrently through on-premises components. Many organizations utilize the hybrid model to get the best Cloud computing or on-premises IT services.
Usually, a hybrid Cloud is used by an organization that wants to store appropriately sensitive data using the private Cloud and respect allowing employees access to resources and apps in the public Cloud.
This is mainly done for daily collaboration and communication. The hybrid Cloud utilizes proprietary software to enable communication between different Cloud services through the unified IT management console.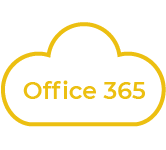 Microsoft 365
Microsoft Office 365 is the essential Cloud-based service developed to assist your business enterprise in meeting its needs for healthy security, user productivity, and reliability. Microsoft 365 encompasses a suite of apps that work on different functionalities.
The primary productive apps are Microsoft Word, Publisher, Excel, PowerPoint, Outlook, One-Note, and Access. These apps offer an effective solution for either small, medium, or large business enterprises.
Microsoft Office 365 comes in handy with various package plans for a subscription for homes, businesses, and enterprises. Office 365 is developed with products and services that comprise artificial intelligence and Cloud-based productivity.
Microsoft Office 365 involves viable subscription plans that ensure a lifetime use of the office software suite regarding Cloud-based software like SaaS. Therefore, Office 365 programs provide automatic updates to each prospective software without any additional fees, unlike conventional license fees in previous versions when upgrading the software.
Besides SharePoint Online and Skype for online business and exchange, Office 365 allows real-time communication, data analysis, social networks, and security functions for reliant infrastructure.
Microsoft Office 365 pools toolsets and features together from enterprise mobility, Employees use all the secured protocols to protect critical data from infiltration from outside parties.
What Can You Put in Cloud Storage?
Cloud services have evolved highly to provide many functionalities. Therefore, you can use Cloud storage for various purposes that include:
Uploading and encrypting any sensitive data
Cloud storages provide exceptional Cloud security methods, with the major one being end-to-end encryption. Private encryption makes you hold the key alone and thus protects your files from being read by another person. The end-to-end part allows encryption to scramble your essential files before leaving your personal computer to a Cloud server storage.
Creating and sharing photo albums
Nowadays, printed photographs have become things of the past. You can take digital pictures easily without difficulties. Conversely, if your devices are affected by chance, you can experience detrimental loss; therefore, storing them in Cloud storage becomes the ideal and safe solution.
Taking notes and storing them in Cloud storage
Making good notes on paper is a daunting task – however, you can avoid this by using the Cloud to gather informed thoughts stored safely in Cloud storage.
Storing essential passwords in the Cloud
Losing passwords is frustrating, especially when you are doing demanding tasks online. To avoid the unprecedented mess, you can keep them in a particular part of the Cloud using a password manager. The best and most popular password managers include; Last pass, I-password, and Dashlane.
Managing every document you have
Cloud storage offers exceptional means for individuals with a vivid need to work with documents.
Why Choose Dynamix Solutions
Dynamix is a world-class cloud service provider in Toronto that ensures you get the best cloud computing solutions based on your niche. We believe in better business operation using innovative technologies.
Our award-winning team of experts can analyze and handle various complex cloud computing issues and deliver the best solution tailored to your specific needs.
We take pride in the top-rated services that we deliver to different clients across the world. Dynamix Solutions operates in well-organized and slick workflows, ensuring efficient and quick delivery of any cloud service. With a dedicated team of cloud experts, we excel in providing end-to-end tailored solutions backed up with the latest methods, tools, and technology stack.
Additionally, we don't just provide cloud services, but rather we work with you throughout the entire project to strategize and get the best cloud solution specific to your business requirements.
Regardless of the business size, we partner with any client to elevate their value through our advanced cloud-based services. Our 24/7 support team is always ready to respond to your requests and questions about any of our services. Dynamix Solutions will greatly assist you in moving your entire or at least part of your data to a cloud-based server.
Frequently Asked Questions
At Dynamix, we set up and manage cloud solutions and technologies for any business. Call us today and talk to our experts!
Our office in Markham serves Toronto, GTA, Vaughan, Mississauga, Pickering, Brampton and Richmond Hill.
WE LOOK FORWARD TO HEARING FROM YOU.
EXPERT INSIGHTS FOR YOUR BUSINESS
Guide to Selecting the Right Cloud Services Provider for Your Canadian Business

Cloud computing has revolutionized the way businesses operate. It offers numerous benefits such as scalability, cost-efficiency, and flexibility, making it an attractive option for businesses of all sizes. However, choosing the right cloud services provider is crucial to ensure a …

Read more

What is Cloud Technology, and How Does It Work?

We are living in the age of knowledge-driven economics. Information is an asset, and how we share it defines the extent of our success. We have made major developments in the way we share and exchange information, however, the real …

Read more

Benefits of Cloud Computing

In today's digital world, more and more businesses are turning to cloud computing for their data storage and computing needs. Cloud computing provides a range of benefits, including cost savings, data security, flexibility, and high speed, making it an attractive …

Read more