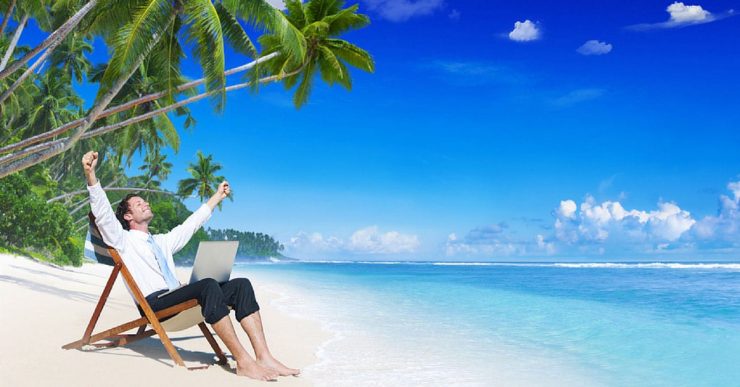 In an increasingly connected world, many people want to combine extensive travelling with their workload. While there are obviously times you need to be in the office, with the rise of mobile devices and a web of internet growing around the world, it is quickly becoming more and more viable to work remotely, from the golden beaches of Australia to the snowy tundra of Siberia. Kisha Mays, CEO of Just Fearless, spends approximately 8 months of the year travelling to Malaysia, Italy or Singapore.
Keep Costs Low
Although it can be tempting to put five star hotels on the company credit card, it may be smarter and cheaper to turn to online options like Airbnb. Renting a temporary home can be a lot cheaper than just taking a hotel room, and offers amenities that may be unavailable in the hotel, especially if you're planning on staying for an extended period of time.
Depending on where you are, it may even be cheaper to sleep in one country and work in another. Mays spent five months in a rented home in Thailand to easily monitor her projects in Hong Kong, Singapore and Malaysia, travelling back and forth as needed. She was also able to mark most of her travel expenses as tax deductible, since they were for work, rather than pleasure.
Using Technology
The biggest issue used to be connectivity. Although emails are a great way to keep in touch, it can be difficult to keep up to speed between time zones, jetlag and just the stress of the road. Cloud based technology will allow you to keep up with your workers and your projects without having to lug servers or heavy equipment with you everywhere. Using tablets or even a phone, rather than a full computer or laptop, lets you travel light without sacrificing your workload.
There are also scheduling softwares. If you are entering an area with less than optimal internet access, or simply want to take a day or two, you can use sites like hootsuite to keep your social media updated, or schedule posts on wordpress to post while you're on the road. Plan ahead to reduce the pressure.
Planning Ahead
Tying in with this is planning out a schedule. Prepare ahead of time, rather than scrambling at the last minute to get something finished while also looking for a passport or ticket. Keep a calendar for yourself and your work, and stick to it. Obviously, accidents happen, you can get taken by surprise, and its better to have a plan in place to reduce the stress that will follow.
Set Yourself Free
Give your employees the tools to do more away from the office. Considering the cost benefits and additional flexibility that businesses can enjoy by switching to cloud-based computing, all organizations should strongly consider moving at least part of their data to cloud based servers.
At Dynamix Solutions, we can set up and manage your business' cloud solutions.
If you have any questions about what our Cloud services can do for you, simply "Request a Quote" or call us at our Toronto office (416) 657-2449 or our Calgary office (403) 456-2183.