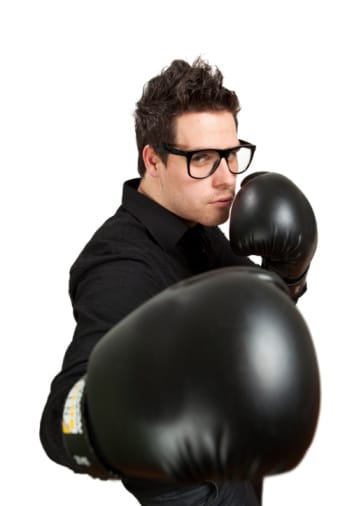 As a business owner, you rely on your smartphone to connect to employees, vendors and customers. Apple's iOS and Google's Android are the most popular smartphone choices, but which one is right for your business?
Business Use
Apple
In the third quarter of 2012, Apple's iOS was the most popular platform for businesses that interact with customers, such as restaurants and retail stores. And according to Citrix, Apple's iOS is the preferred mobile platform for businesses, with 62% of them using it at the end of 2013.
Android
Android's popularity significantly increased among nonprofit, communication, and education companies between the fourth quarter of 2012 and the first quarter of 2013. According to Citrix, Android is the second most common mobile platform in the business world, with 35% of the enterprise market using it at the end of 2013.
Verdict: Businesses use Apple's iOS more than Google's Android.  
Apps
Apple
Apple's App Store offered more than 900,000 apps as of June 2013. According to ZDNet.com, these apps have been downloaded over 50 billion times since 2008. iOS users tend to install apps more often than Android users, with an average of 83 apps per iOS device activation.
Android
The Google Play store currently offers approximately 700,000 apps. In April 2013, more than 2.5 billion apps were installed. Android apps have been downloaded roughly 48 billion times as of May 2013.
Verdict: Apple's App Store is more popular than Google Play. However, Google Play is growing at a faster rate than Apple's App Store when measured in both downloads and revenues. 
Hardware
Apple
Apple's iOS is known for its clean, familiar interface. The user interface is the same on all Apple devices. Unlike Android, Apple controls both the hardware and the software, making it simple for users to upgrade to new versions.
Android
Android is designed to be modified by the particular manufacturer releasing the smartphone. These modifications can vary greatly, changing the look and feel of the Android phone. Android offers a large variety of devices at various price points.
Verdict: Apple iOS is familiar and sleek, while Android offers a wide variety of mobile devices. The verdict ultimately comes down to the user. If you love Apple's design, Apple wins. If you're looking for something unique, Android wins. 
Security
Apple
Apple's iOS is safe until a user "jailbreaks" the device and installs apps from outside Apple's store. This makes the device more vulnerable to attacks. Most of the dangers associated with iOS involve human errors, not the device itself.
Android
Android's applications are isolated from the rest of the device's resources, unless the user grants an application access to other features. This allows for less vulnerability to bugs and malware, however, Android offers less protection against malware or data integrity attacks.
Verdict: Overall, Apple is a more secure mobile platform than Android. However, the user is responsible for practicing proper security measures.
Apple Wins!
When we consider all of the factors above, Apple's iOS wins for the best mobile platform for business use. If you allow mobile devices in the workplace, develop and enforce a strict mobile policy to keep users' devices and your business secure and productive.