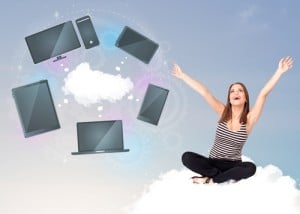 Cloud service computing has transformed the way small businesses view technology and what it can do for them.
Cloud service allows you access to a wide range of capabilities that was only previously available to larger companies, giving you the comfort of tapping into common services and software to pay for and distribute things you need or use on a monthly basis.
There are six benefits in particular:
Fully Utilized Hardware and Improved Collaboration
Cloud-based programs are accessible on almost any device as long as you have an internet connection. This is vital especially if you have employees in a remote location. Even if you have employees in different locations, you can still collaborate on documents without the need to email or share attachments with one another, as this can all be done in real time.
You can also connect with your employees with instant messaging or meetings using:
Audio
Video
And even web conferencing capabilities
Some Cloud service options allow you to bring in your vendors and customers into these meetings, allowing everyone involved to react more efficiently to business opportunities.
Never Misplace Your Notes Again and Manage Your Growth
Cloud service resources are scalable, meaning you can support growth and handle more because you are able to increase your capacity for resources. Small businesses often fall prey to not being able to predict what resources they will need. With the use of Cloud service capabilities, you can react to your needs as they arise as opposed to having to predict your needs.
Lower Costs
Cloud services can help to save your business money when it comes to several aspects, including:
Server maintenance
Software licensing
Power and cooling costs
Upgrading expenses
Cloud services also allows you to scale down during periods where you aren't as productive, saving you and your business money by removing users and using less storage space.
Secure Data Backup and Never Worry About Hardware Crashes
If you keep your data back up on site, or if you simply don't have the resources to put a backup strategy in place, Cloud services can help you to recover any of your data in the event your hardware crashes due to system failure or other disaster.
Greater Reliability and Access Files Anywhere
If you should find yourself at a meeting where you need to give a presentation, or if you have a task to complete at home, but the slides on your USB drive don't work, you will be able to access your cloud services remotely in order to complete the presentation or finish your task from your home office.
Eased Resource Management and Work on Files in Real Time
Cloud service capabilities allow you to do what is most important – running your business. You can access files in real time and all of your resources are easily manageable and available to you no matter where you are, in office or on remote location.
Click the following link if you have any questions about cloud services.