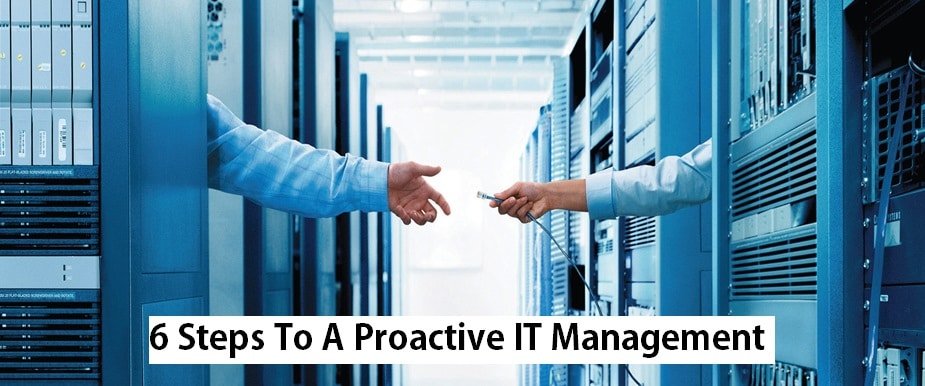 As a business owner, it would be simple if you could just put a system in place and it manages itself. But we all know that doesn't happen. Systems require strategies in order to run effectively, and it's essential that you consider proactive IT management to achieve that.
What is proactive IT management?
Proactive IT management involves the integration of a network monitoring software into a company and a strategy used by IT professionals to correct device and network errors in the workplace. This process can keep networks and computers running at their top functionality with minor drag on operations when errors occur.
A proactive approach to IT maintenance and security is crucial. Here are our 6 steps in order to create a proactive IT management and consulting system for your company:
Understanding the Past
In order to avoid making the same mistakes, it's important to understand problems that have occurred in the past. If you don't take this opportunity to learn from the past, the company's future will continue to be stuck in the same system and will never progress. It's important to take the time to research this thoroughly so the company can implement an IT maintenance system that will be effective and successful.
Digital Technology
At this point in time, most companies are run on a digital platform of some sort. In order to create a proactive IT solution that works, companies should consider investing into business intelligence and analytics, cloud services and mobile. With these investments does come the risk of data breach, so it's important for your company to have an effective backup and disaster recovery solution in place.
Aligning IT Priorities
In order to achieve a proactive IT management system, it's important to align the company's IT priorities. According to CIO.com, the top three strategic priorities to take are driving business innovation, identifying opportunities for business innovation, and developing and refining a business' strategy. By identifying priorities, the company is one step closer to a proactive IT solution.
Remote Accessibility
An IT team doesn't work in a fixed office location anymore. It is more likely that they are travelling between branches or on-call from their homes. When selecting a proactive IT support system, make sure that it allows for remote access where the IT team can access information and manage the network from wherever they are.
Tighten Security
The backbone of proactive IT management is tightening up the security around the systems the company has in place. This reduces the risk for data breaches to crash your company's IT infrastructure, which could set your company back or potentially put it out of business.
Control to Vision Approach
The final step towards proactive IT management is the company's approach method. Once the key IT systems are in place, the company can start to change its leadership style by amplifying its vision while reducing its command and control. This is a sign that the systems that have been put in place are working effectively and are proactively seeking and solving problems.
Many companies have turned to managed IT services to provide them with proactive IT management, in order to increase their market effectiveness, productivity and security measures.  We provide proactive IT management alongside preventative IT maintenance to help prevent IT issues and downtime. Contact Dynamix Solutions today, if you're ready to start being proactive about your business.