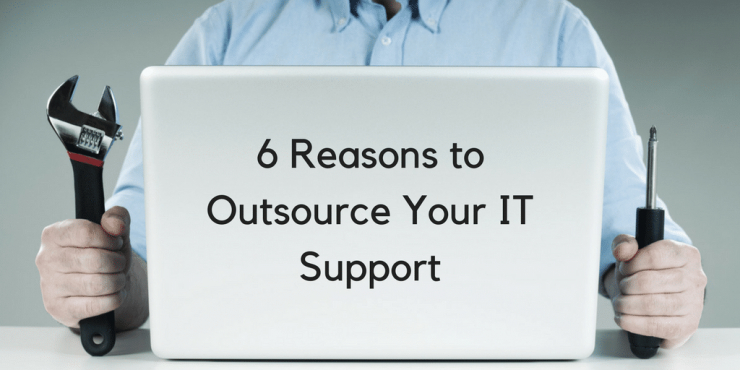 As the owner of a small or medium-sized company, the thought of outsourcing some aspect of your business has probably come to mind. The obvious reason would be to reduce costs for everyday business functions. But in recent years, it has become more apparent how a company manages its data and information can make or break a company's success.
Keeping the success of your company in mind, here are 6 reasons why your company should outsource its IT support:
1. Free up your internal resources
It is likely that you have limited resources as a company and even have limits on types of things that you can successfully do in terms of IT. By outsourcing your IT support to a third-party provider, you will free up your company's internal resources that can now help with the growth of your business.
2. Bring IT resources of the level of big businesses
Do you want to even the playing field with those big businesses? Outsourcing IT support is your solution. As a smaller business, you're likely limited in terms of the resources or budget necessary to have an effective, in-house IT team. But, big businesses have those resources and can even maintain their own IT services and systems themselves. By outsourcing your company's IT systems and services, you help to create a more even playing field.
3. Share the risk
When you shift your IT to a third-party support provider, you are also offloading some the infrastructural risk that comes with it. When you share the risk, your company can become more agile, dynamic, and flexible — which will help you deliver a better product/service in the long-run.
4. Company security
When you outsource your company's IT support, you won't have to worry about answering questions such as:
Is our firewall up to date?
Have our workstations and servers been audited?
Do we have a DMZ installed?
Have we implemented and do we follow PCI security standards?
An outsourced IT support provider will ensure that credit card numbers, client data, and sensitive competitive information are secure, so you won't have to worry about a thing.
5. Data management expertise
Your company doesn't likely have the budget to hire a panel of IT experts to guide you through the changing world of big data. When you outsource your IT support, you will gain access to top levels of technology and resources. This access will help you stay competitive in your industry.
6. 24/7 services
When you work with an in-house IT support team, your company is limited to the typical 40 hour work week, 9-5 from Monday to Friday. With the use of outsourced IT support, it helps to reduce corporate risk since managed service providers can provide IT support during and after working hours, during the holidays and during the weekends.
It is important for your technology to run 24/7 because it is the core of your business. It's important to be prepared to respond if any IT mishaps were to occur. When you have an IT support team with available resources, it helps to reduce company downtime — which helps to save on revenue loss.
If you are looking to outsource your company's IT, contact Dynamix Solutions today for a free quote.