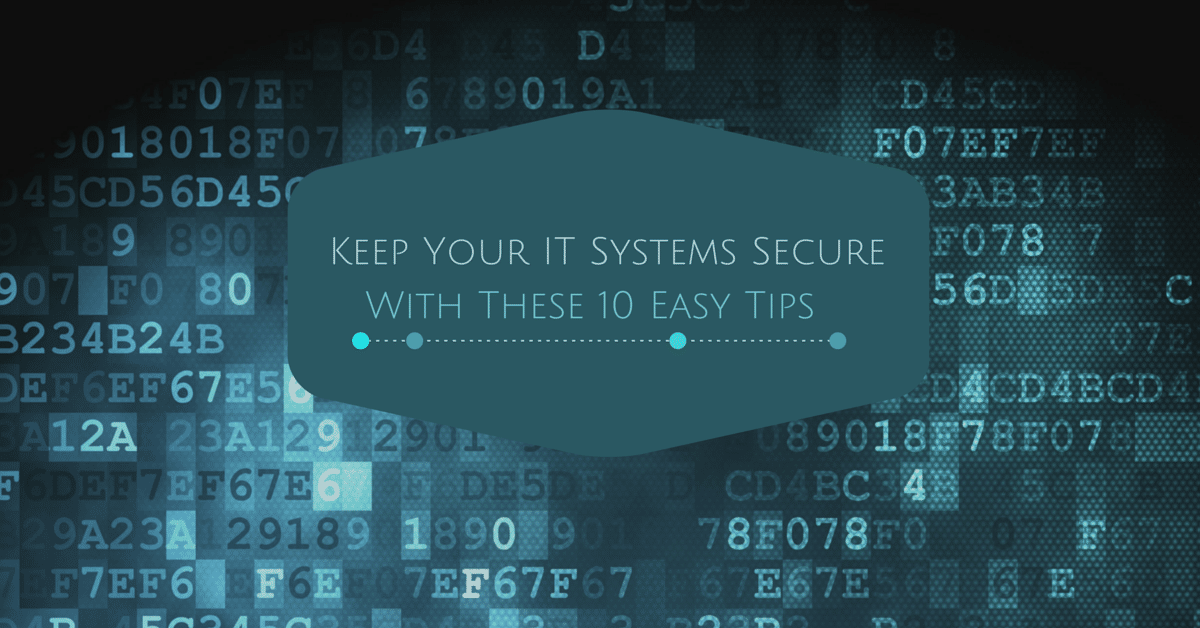 Yes, you're paying your outsourced IT support to keep your systems secure. But is there anything YOU can do? Always!
Here are 10 easy ways to enhance your IT security, so you'll have more peace of mind, and the ability to attend to other aspects of your business.
1. Treat Your Passwords like Assets
Oftentimes, people treat their passwords as nuisances rather than important part of their digital security system. Instead, you must treat your passwords like cash and protect them as well as you can.
2. Change Your Passwords Often
In addition to protecting your password, you should also change it every few months, because they can be stolen. You can make sure that this happens by having your IT system automatically lock members of your team out of the system until they change their passwords.
3. Do Not Open Any Unknown Emails
It is common practice for hackers to send malicious code to your computer via emails created to look like authentic business opportunities. If you do not recognize an email address, do not even open the email, let alone download any attachments.
4. Do Not Believe Anybody Who Calls You from an Unfamiliar Number
Another way that people will try to steal sensitive information is via the phone. They will call you, posing as a government official or security company, for example, and request sensitive information. If you get a call from an unfamiliar number and this happens to you, ask to call them back and find an official number to dial.
5. Do Not Keep Your Most Sensitive Data on Site
The cloud has given us access to a whole host of capabilities. This includes access to data security systems that most businesses cannot afford to set up on their own. As such, it benefits you to store your most sensitive data in a cloud storage solution, instead of on your hard drive.
6. Train Your Employees
You should not assume that your employees understand the importance of IT security or that they know how to protect your systems. Make sure that they know by establishing a set of IT security best practices and training your entire team.
7. Do Not Ignore Software Update Alerts
Most software updates include security patches that allow you to protect your IT systems from the latest threats. Ignoring them could make your IT systems vulnerable.
8. Delete Everything That You Do Not Need
If there is sensitive data that you do not need, then it should be deleted immediately. This will significantly reduce the likelihood of anything being compromised in the event of a digital attack.
9. Only Use the Best Outsourced IT Support
Your outsourced IT support team is critical for your IT security. Make sure that you only outsource to the best IT support team.
10. Work with Your Outsourced IT Support
Your IT support team is optimally effective when you are working alongside them.
Wait – Do You Have Reliable Outsourced IT Support?
At Dynamix Solutions, we know running an online business is no easy task. It requires you to keep your IT systems secure, while focusing on making your business profitable. This can hurt your bottom line because a lot of your efforts and resources will go towards keeping your IT systems secure.
When you choose to outsource your IT services, you can focus on the other priorities that your business demands. With over thirteen years experience, we have been helping businesses secure their IT systems, and we can help you, too. Learn more about our IT outsourcing services, or contact us to request a free quote, and begin the process of heightened security for your business.